Get to know the success story
Brazil is one of the world's leading producers and suppliers of food, fibers and agro-energy. Productivity gains obtained through technology and local farmers entrepreneurship, added to agriculture and livestock production chain organization. The most recent projections published in Agricultural Outlook by the United Nations Food and Agriculture Organization (FAO) and the Organization for Economic Cooperation and Development (OECD) estimate that, over the next ten years, Brazil's production of various agricultural and livestock products will grow at rates far above the world average.
Brazil also possesses extensive areas of native vegetation recognized worldwide as important to biodiversity, water cycling, carbon storage and climate regulation. Brazilian agriculture and livestock sector is ready to commit to preserving this natural resource heritage, while at the same time expanding its production and supply of essential products to attend domestic and overseas demand.
Agriculture and livestock sector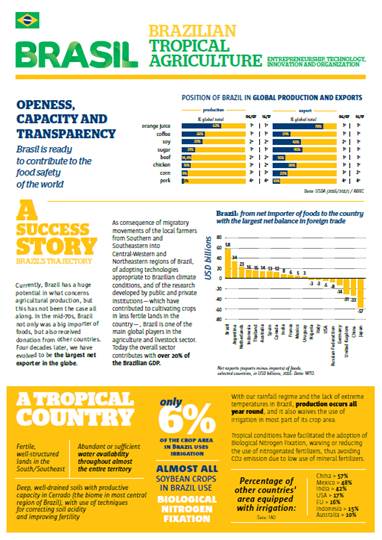 BRAZILIAN TROPICAL AGRICULTURE
Nowadays Brazil has a huge potential related to agricultural and livestock productions, but the truth is that it wasn´t always that easy! Until the mid-1970s, Brazil was not only a large food importer, but also it even received food donations from other countries. In just 4 decades, we had an incredible transformation and we evolved from being a large net food importer to the world's largest net exporter.
---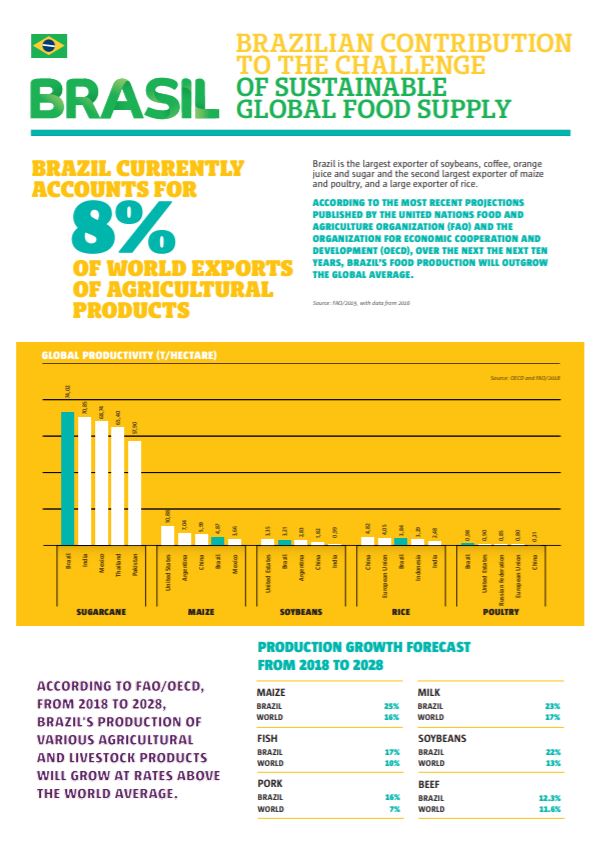 BRAZIL´S CONTRIBUTION TO THE CHALLENGE OF SUSTAINABLE GLOBAL SUPPLY
Brazil is currently responsible for 8% of the global exports of agricultural products of soybeans, coffee, orange juice and sugar and the second largest exporter of maize and poultry, and a large exporter of rice. According to the most recent projections published by the United Nations Food and Agriculture Organization FAO and the Organization for Economic Cooperation and Development OECD, over the next the next ten years, brazil's food production will outgrow the global average.
---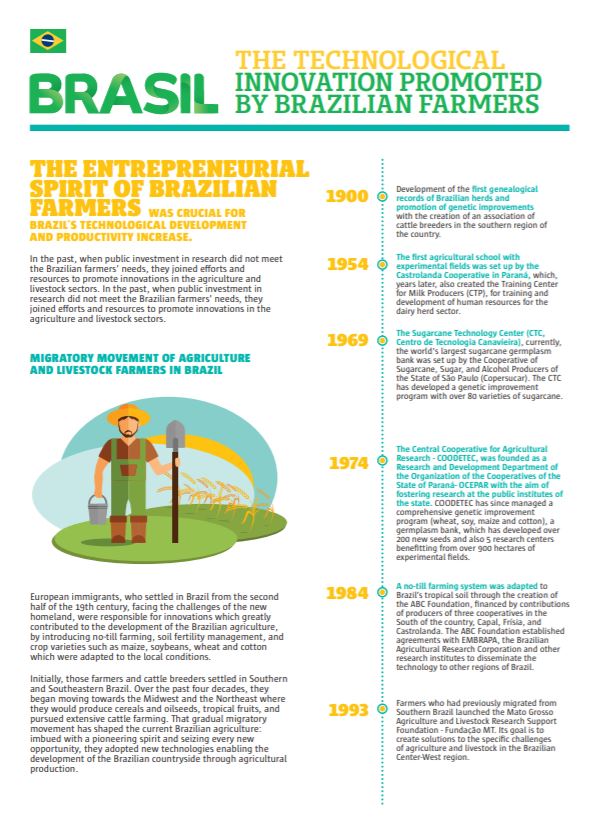 THE TECHNOLOGICAL INNOVATION PROMOTED BY BRAZILIAN FARMERS
The entrepreneurial spirit of farmers was crucial for Brazil's technological development and productivity increase. In the past, when public investment in research did not meet the Brazilian farmers' needs, they joined efforts and resources to promote innovations in the agriculture and livestock sectors. European immigrants, who settled in Brazil from the second half of the 19th century, facing the challenges of the new homeland, were responsible for innovations which greatly contributed to the development of the Brazilian agriculture, by introducing no-till farming, soil fertility management, and crop varieties such as maize, soybeans, wheat and cotton which were adapted to the local conditions.
<< BACK
Land use in Brazil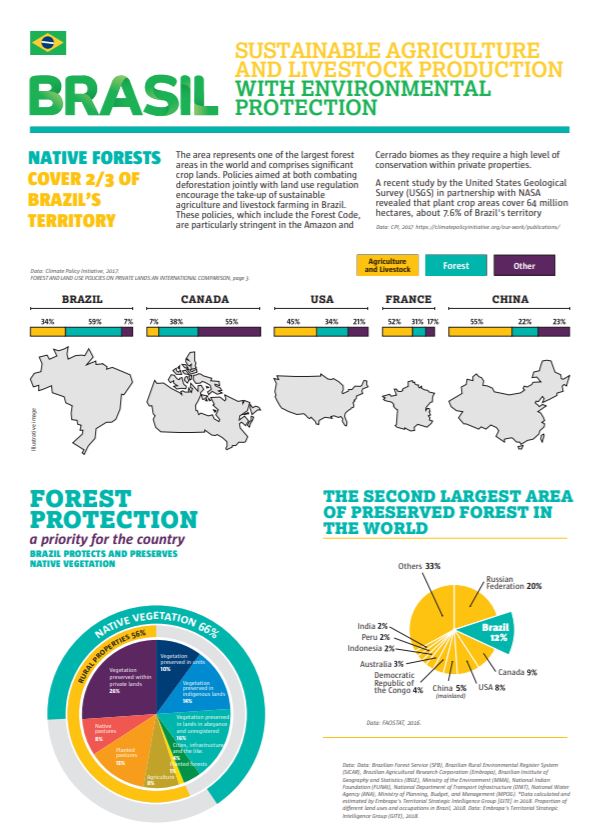 SUSTAINABLE AGRICULTURE AND LIVESTOCK PRODUCTION WITH ENVIRONMENTAL PROTECTION
NATIVE FORESTS COVER 2/3 OF BRAZIL'S TERRITORY. The area represents one of the largest forest areas in the world and comprises significant crop lands. Policies aimed at both combating deforestation jointly with land use regulation encourage the take-up of sustainable agriculture and livestock farming in Brazil.
These policies, which include the Forest Code, are particularly stringent in the Amazon and Cerrado biomes as they require a high level of conservation within private properties. A recent study by the United States Geological Survey (USGS) in partnership with NASA revealed that plant crop areas cover 64 million hectares, about 7.6% of Brazil's territory
---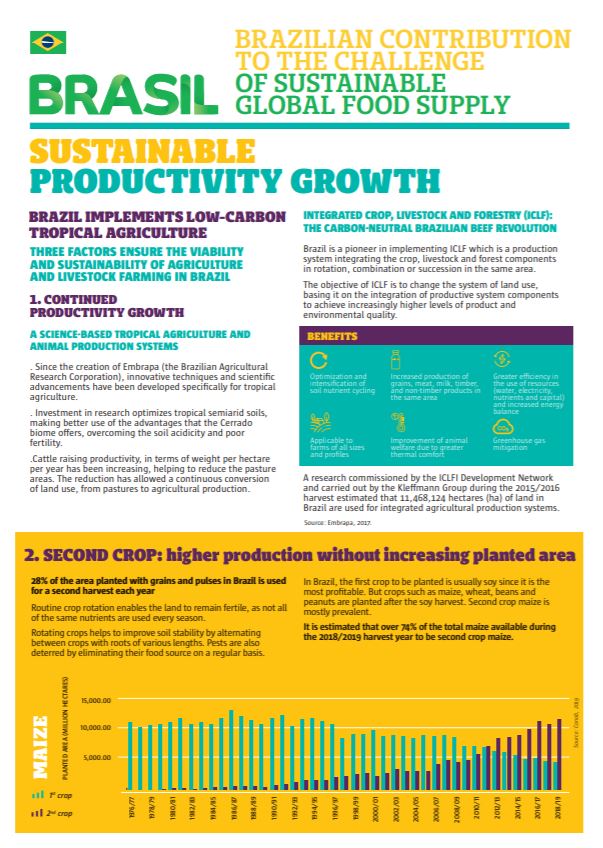 BRAZILIAN CONTRIBUTION TO THE CHALLENGE OF SUSTAINABLE GLOBAL FOOD SUPPLY
Brazil is a pioneer in implementing ICLF which is a production system integrating the crop, livestock and forest components in rotation, combination or succession in the same area. The objective of ICLF is to change the system of land use, basing it on the integration of productive system components to achieve increasingly higher levels of product and environmental quality. 28% of the area planted with grains and pulses in Brazil is used for a second harvest each year, routine crop rotation enables the land to remain fertile, as not all of the same nutrients are used every season. Rotating crops helps to improve soil stability by alternating between crops with roots of various lengths. The Forest Code mandates permanent protection reserve/preservation units in Brazil. These are areas of specific interest aimed at conserving natural resources around waterways, lakes, ponds and springs, as well as restinga and mangrove coastlines/ coastline biomes. In the Amazon biome, rural properties can explore up to/the maximum of 20% of their lands for economic purposes.
<< BACK
BRAZILIAN FOOD SAFETY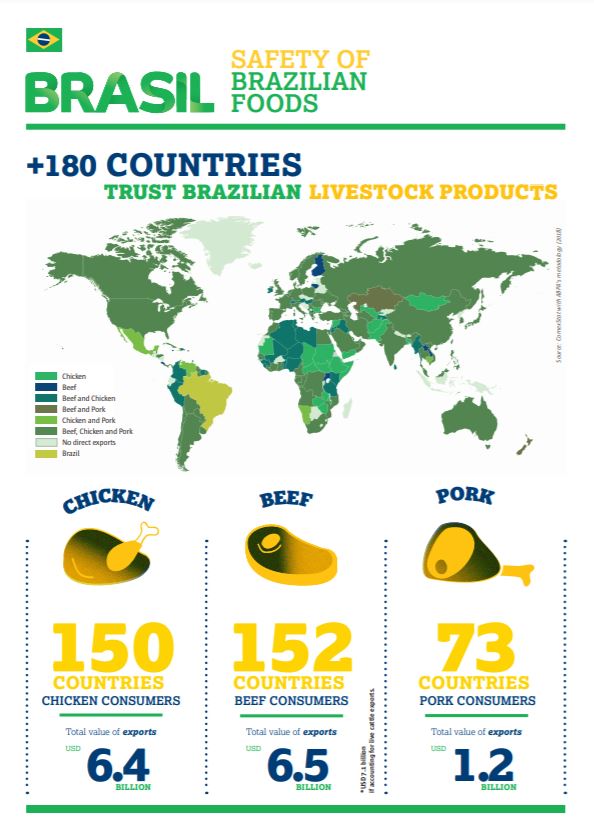 SAFETY OF BRAZILIAN FOODS
The animal health control of Brazilian livestock is comprehensive and is enforced in all regions in Brazil. The Ministry of Agriculture, Livestock and Food Supply requires the presence of an official veterinarian supervisor in all slaughter plants, full-time. The World Organization for Animal Health (OIE) acknowledges that the Brazilian procedures for company compartmentalization, aimed at maintaining its sanitary status is a model of excellence.
---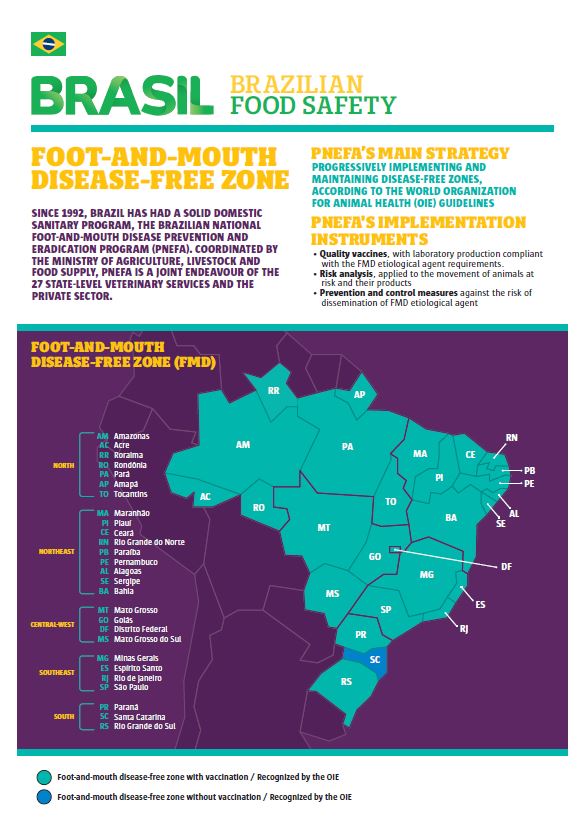 BRAZIL: FOOT-AND-MOUTH DISEASE FREE ZONE
Brazil was certified a foot-and-mouth disease-free-zone on May 2018 at the 86th General Session of the World Assembly of National Delegates of the OIE (World Organization for Animal Health). It took 25 years of constant efforts to completely eradicate foot-and-mouth disease in the country.
<< BACK